What is Transeasonal Fashion and Why Does it Matter?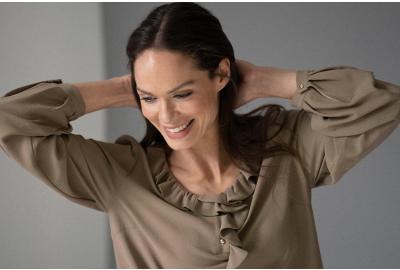 When the last throes of summery sunshine beam through the reddening leaves of Autumn, we have entered the in-between realm of transeasonal fashion.
Despite what fashion magazines might have wanted us to believe for decades, no woman in the history of ever has packed her neatly-defined seasonal wardrobe into storage with the changing weather. While there might be an ever-present fashion calendar, we all mix and match our favourite pieces all year round, and this is the foundation of transeasonal fashion. 
Those choice garments which we pluck out all year round and dress up or down for the weather — like popping a jacket on a faithful hound — are the cornerstones of any closet. Swishing through the seasons and adapting to the changeable British weather like clothing chameleons. 
While it might be a relatively new term, the word 'transeasonal' simply ties up the time honoured concept outlined above in a neat bow. 
Now we have schooled ourselves on the semantics of the word, let's hunker down and learn more about why transeasonal fashion really matters — for our wardrobes and the world. 
1. It Removes the Toxic Pressure of Fast Fashion 
It's easy to be flattened by the pressure of the ever-rotating wheel of the fashion year. Author Elizabeth Cline, estimates that there are now a staggering 52 microseasons, as opposed to the traditional four. 
This began in the early '00s when Zara shifted to bi-weekly deliveries of fresh styles, so consumers never ran out of new items to buy. With the explosion of online fast fashion retailers who are knocking out new designs on a daily basis - there is an enormous pressure on both the women who try to keep up with this fashion treadmill and the environment. 
Adopting a transeasonal ethos with a focus on long-lasting, versatile garments sidesteps this toxic whirlwind altogether. The rewards? Less mental and environmental load. Surely a win for everyone?
2. It's How Real Women Dress Anyway
>Our Aurelie Shirt is a versatile piece which can carry you through the year
Let's be real, rewearing pieces throughout all the seasons is already the way most of us dress anyway.
Despite the constructed language of fashion trying to convince us otherwise, most women's wardrobes contain the same items all year round. Sure, some might get more use in the summer, but artful and creative layering means even a favourite crop top can have the luxury of the occasional winter outing.
In the words of Lisa Aiken, Net-A-Porter fashion director:
"Seasons are becoming less and less relevant as customers no longer think in these terms. What the customers are looking for is fashion that also has longevity, she wants to be able to pick key pieces that she can style for now and for later. We pay a lot of attention to ensure our buy balances continuity and fashion so that there is newness as well as permanency, especially as we are a global retailer."
3. It Promotes Creative Dressing 

When it comes to truly innovative dressing, less really is more. Some of the most stylish people I have had the pleasure to know have the most minimal wardrobes, but put the pieces together with a creative flare. 
It's easy to think of capsule wardrobes as restrictive and austere, but embracing a transeasonal ethos can actually encourage quirky and exciting looks by cultivating a mix and match mentality, 
Just trying things out is much easier when you're not overwhelmed by the number of pieces you own and it's surprising what you can achieve with some artful layering and bold accessories. 
Coco Chan, head of womenswear at Stylebop encourages this creative flair by explaining that her vision of transeasonal dressing:
"Think classic but with a subversive twist to keep things interesting. Look for intriguing plays on proportion, cut or surprising detailing that adds just enough intrigue to what would otherwise be a 'basic.' Moving forward, that really captures the new mood of luxury: bringing a touch of the extraordinary to the everyday—be it a ballooning sleeve, an asymmetrical hem, an exaggerated volume."
4. It's More Financially Savvy 
Investing in quality pieces might feel a bit financially indulgent at the time, but it genuinely costs a lot less in the long term. 
If we have the luxury of being able to afford higher end pieces, it works out cheaper because the fabric and construction of the garments give them a much longer life than their budget equivalents. 
High quality pieces are often easier to look after because they are made of natural fabrics and can be mended seamlessly if they happen to tear — something which often isn't possible with more flimsy, man-made fabrics. 
If you're on a budget, buying vintage or second hand is a great way to reap the benefits of high quality fabrics. An item which has already lasted for decades with a former owner, will still have plenty of life in it yet and it's extra sustainable to stop preloved garments from ending up in landfill. 
5. It's Practically Designed for the British Weather

It's a bit of an art imitating life situation when we think of the British climate and our unique style! 
The British weather has undoubtedly shaped how we dress as a nation. Expecting the unexpected and dressing like you might face every season in a singular day is the essence of transeasonal styling. 
In short, you're probably doing it already!
6. It's More Ethical for Garment Workers 
When fashion seems cheap, someone is paying for it. Sadly, it's normally the garment workers in countries where there are less stringent labour laws. 
A welcome side effect of embracing the transeasonal ethos of buying well and choosing versatile clothing is often protecting garment workers, 
Here at the Shirt Company, we pride ourselves on using European factories which pay garment workers fairly and provide a safe working environment. We visit our factories to ensure they are up to standard and we have the privilege of doing this as we create transeasonal collections which we sell all year round as opposed to chasing fads. 
7. It's More Environmentally Sound
The clothing industry has a lot to answer for when it comes to environmental cost. Whether it's from the staggering 11 million tons of clothing waste which is disposed of annually in the US alone, the harmful chemicals used in production or the airmiles of producing garments in far flung nations. 
Embracing a transeasonal ethos is more likely to be kinder to the environment as slow fashion is more sustainable. Without the pressure of cranking out endless collections, designers can instead focus on creating long lasting, well made pieces which stand the test of time. 
These pieces are more likely to be made of more environmentally sound fabrics such as organic cotton as they have longevity in mind when they are designed and created.
Share this
---