Nobody Likes a Fashion Braggart, Especially the British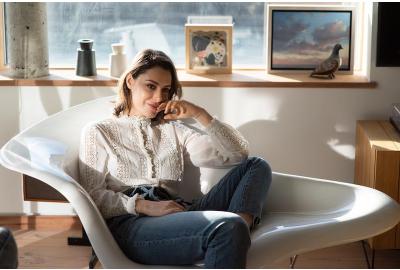 The shimmering mirage of contrasts and contradictions which make up UK style are a slippery fish to grasp, but suspicion and ridicule of anything excessively boastful is a cultural concept which permeates the way we dress.
Dressing eccentrically and originally is positively encouraged, but the slightest whiff of "flexing" when it comes to money or status is likely to make you the target of some brutal ribbing at the pub as opposed to a figure of admiration. 
It's not so much 'fashion' which often governs British style, but a complex set of cultural dos and don'ts which views anything self-styled as 'elite' as asinine and ridiculous. Deciding you want to only wear red or sashay around like a member of a Siouxsie Sioux tribute band is likely to bat many less eyelids than a draping of flashy logos advertising opulent expense. 
Gleefully knocking things down a peg or two is a national pastime. When balanced with self-deprecating humour, this creates a harmonious yin and yang which manages to avoid an air of bitterness and instead somehow engenders fairplay. 
We only have to look at beloved British cultural icons to see this dynamic at work. Philomena Cunk's deadpan delivery of ridiculous questions to (often) unknowing baffled academics, for example, or Jay Rayner's withering yet playful reviews which, most are aimed at institutions who thoroughly deserve a ripping. 
While feathers are deservedly ruffled, there is generally a level of decorum. Even Salt Bae — who recently hit the headlines for paying London-based staff 12 pounds an hour, the same price as a corn on the cob in his restaurant, Nusr-Et — was given a nod by critic Rayner when credit was due. In his Guardian review he wrote:
"In my more benevolent moments, I wonder whether Mr Salt Bae isn't actually having the last laugh...  he didn't start a rich man. He came from a poor working-class family. Now he's rinsing the rich and stupid. It could almost be inspiring."
Image credit: Instagram/nusr_et - Nusret Gökçe's gold-wrapped steak is ripe for a dressing down. 
Flashy displays of affluence are fair game for mocking comment, but choosing to whisper as opposed to shout about expensive goods demonstrates refinement. Marketing website The Drum coins these phenomena as "loud" or "quiet" luxury. 
While "loud" logo-driven pieces are often worn satirically or somewhat apologetically, "quiet" luxury goods which focus on cut, quality and materials are more emblematic of British style. According to The Drum:
"Quiet luxury is not centred around the logo, or showing off wealth and status. Instead, it's all about the beauty, quality, and craftsmanship of the product."
Even luxury itself as a concept can be considered a bit cringe, though. According to a survey conducted by money-saving website TopCashBack, 95 percent of Brits are likely to brag about bagging a bargain to justify expensive purchases while just 16 percent won't mention buying things on sale in an offer to appear more affluent than they are. 
When we consider the cornerstones of what makes UK styling shine, this all seems fitting. Business of Fashion defines this alchemy as "a constant collision between the elitist establishment and the irreverent anti-establishment." 
Anti-establishment sentiment summons images of punks, rockers and counterculture – which are all undeniable ingredients in the UK style brew — but in 2021 it also has a new face: Sustainability. A turn away from the indulgent consumerism of the traditional fashion calendar and a hopeful look toward more transseasonal, timeless pieces which can be treasured for decades to come. 
Share this
---