The Surprising Reason Tennis Players Wear All White at Wimbledon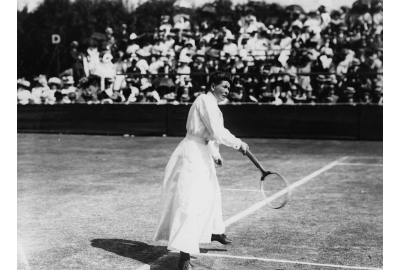 The strict all-white Wimbledon dress code is as synonymous with the image of the world's oldest tennis championship as strawberries and cream, but what are the origins behind it?
A quick bounce through the mists of time reveals the sparkling white dress code is due to a suitably pearl-clutching Victorian attitude to sweat. Particularly women's sweat which was viewed as especially offensive. 
Lawn tennis was considered a whole different beast to the men-only court-tennis in the late 1800s, as frollicking outside on perfectly manicured lawns was judged as a suitable activity for a lady. As lawn tennis was one of the only sports men and women could play together at the time, it became a veritable meet-cute. According to Kevin Jones, curator of Fashion Institute of Design & Merchandising Museum in Los Angeles:
"Flirting was common. It was one of the few pastimes that brought both sexes together"
While courting on the courts was a perfectly acceptable upper-middle-class activity, perspiring on them certainly was not. 
According to Valerie Warren, author of Tennis Fashions: Over 125 Years of Costume Change 'Tennis Whites' were born from a need to vanquish sweat patches. Warren explained that:
"As increased skill at the game led to more movement on court, this in turn led to the dreaded problem of perspiration causing the appearance of embarrassing damp patches on coloured fabrics."
While visible sweat patches aren't generally a selling point for anybody on the dating circuit, according to Warren the all-white rule was imposed specifically with women in mind as — at the time — it was "quite unthinkable that a lady should be seen to perspire." Even if said lady is sprinting around smashing balls with enough power to blast through a stately home window. 
To this day, Wimbledon enforces the strict all-white dress code and, in 2014 officials even decided to make it even more draconian thanks to some incidents with brightly coloured undershorts. 
While the all-white-clothing policy is still in place mostly for tradition's sake, interestingly Wimbledon's most recent dress code also mentions perspiration — namely in the realm of sweat making coloured underwear become visible during play. The official Clothing and equipment regulations reads:
"Any undergarments that either are or can be visible during play (including due to perspiration) must also be completely white except for a single trim of colour no wider than one centimetre (10mm). In addition, common standards of decency are required at all times." 
Most Controversial Women's Wimbledon Tennis Outfits 
Anne White: Lycra Catsuit
Year: 1985
The aptly named Anne White's catsuit caused a stir at 1985's Wimbledon, despite technically meeting all of the dress code requirements. 
White's opponent, Pam Shriver, was so vexed with White's attire that she complained to officials after the match and asked for White to be barred from ever wearing the outfit at Wimbledon again. The tournament referee Alan Mills agreed and asked White to wear more appropriate clothing the following day. White was later quoted as saying:
 "I had no idea it would be so controversial."
Gertrude Moran: Frilly Undershorts
Year: 1949
Before her appearance at Wimbledon, American Gertrude Moran asked permission to wear a colourful outfit which was denied. Nevertheless, she still managed to make a stir with frilly white undershorts which were sometimes visible during play. Escandelo!  
Tatiana Golovin: Red "Knickers" 
Year: 2007
Tatiana Golovin's rule-bending red shorts probably led to the whole dress code for Wimbledon being updated in 2014. According to a Wimbledon spokesperson speaking out to  Reuters:
"They were cleared with the referee in advance by the player. On the basis that they are underwear, they do not have to conform to the predominantly white rule." 
When interviewed post match about her red underwear — because why interview female athletes about their performance when you can focus on her appearance?! — Golovin said:
"They say red is the color that proves that you're strong and you're confident so I'm happy with my red knickers."
Maria Sharipova: The Sporty Tuxedo 
Year: 2008
Maria Sharipova's white tuxedo was seen by many as a satirical dig at the tournaments rigid dress code, but the Russian player was tightlipped about these undertones and told the press:
"It's the tuxedo look. I was very inspired by menswear this year and every time at Wimbledon I want to do something classy and elegant"
Venus Williams: Pink Bra Straps 
Year: 2017
In 2017, Venus Williams was reportedly asked to leave the court mid-match to change her sports bra as the pink straps had the audacity to reveal themselves during play. 
Williams refused to answer questions about this later by, quite rightly, pointing out that reporters being obsessed with her underwear was "weird". 
Bethanie Mattek-Sands: Lady Gaga Jacket
Year: 2011
Officials were reportedly worried when Mattek-Sands rocked up wearing this flamboyant tasseled and balled creation, but as it was not worn on court, she was safe to play another day. 
Share this
---