The Silver Wave: Older Models Take the Forefront of Fashion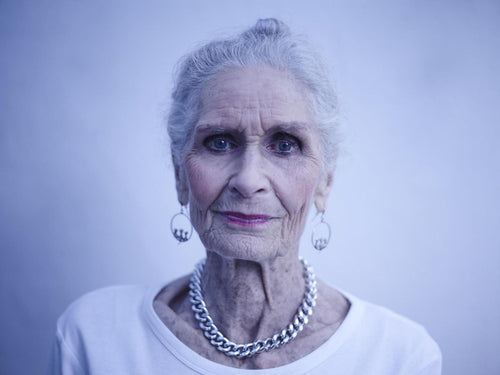 We expect models fronting high fashion campaigns to have an ethereal and otherworldly quality, but it's much less commonplace that they also happen to be in their '80s. 

Cue the inspired images of 88-year-old Maggie Smith for Loewe looking every inch the high-society glam granny in her billowing (and hopefully faux) furs. Needless to say, this refreshing change from an impossibly willowy young thing draped over a chaise longue like cooked spaghetti has been lapped up by the citizens of the internet.
Maggie Smith for Loewe is everything I never knew I needed pic.twitter.com/HkNRsYboAR

— Molly Elizabeth (@molllyelizabeth) October 24, 2023
It's perhaps not surprising that an industry which constantly shapeshifts and reinvents itself is embracing the subversive shock of the old - but is a force more positive than pure novelty shaping these changes?
While being part of the silver wave of older models still requires being decidedly thin, flexible or famous, the rising visibility of more mature women in campaigns and runways seems to reflect a broader cultural change. In the words of photographer Nick Knight:
"We don't live in such a youth-based culture as we did 50 years ago. The internet is where most people get their fashion information from now, and we're seeing all manner of different cultures and values."
I
It's a fashion in itself for older generations to dunk on the 'ridiculous' style of the younguns, but it seems increasingly true that youth fashion is seen as frivolous and irresponsible. This time though, this critique has much less to do with outlandish style or hemlines and instead focuses on the association with fads and unsustainable fast fashion. 
Maggie Smith serving camp for LOEWE.
📸 Juergen Teller pic.twitter.com/pKpy57ugSe

— Nell (@Flicksandgroove) October 24, 2023

Older generations are more synonymous with a classic, sustainable style which is increasingly important to consumers, so perhaps the appeal of treasured, long lasting investment pieces is in turn giving older models a slightly abstract unique selling point. 

Indeed, sustainability icon the late Vivienne Westwood was one of the early adopters of featuring older models with her 2013/14 campaign (also shot by Juergen Teller, just like Maggie) which featured musician, Leslie Winer, who was 60 years old at the time.




While — depressingly — there is something undeniably punk about the bold visibility of a vibrant older woman, the embodied association with a timeless fashion sensibility which stands the test of time should not be overlooked. 

 

This alchemy is perfectly summed up by Charlotte Rampling looking achingly cool yet impeccably classic in Massimo Ducci's brand new campaign. Long live the silver wave! 








 

Cover image credit: Herald Scotland 




Share this
---