The Enduring Allure of Charity Shops: Unearthing Treasures and Embracing Sustainability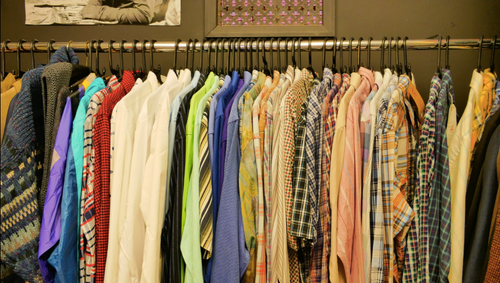 Nothing beats the buzz you get from sifting through charity shop chaff and excavating a fashion treasure. Even if you come home empty-handed, the thrill of the chase is all part of the fun and you're almost guaranteed to get your fix the next time.
Charity shops are a true British institution with devotees spanning the vast spectrum of society, promising in turn a truly diverse haul of donations to flit through. Nine in Ten UK households make a purchase from a charity retailer every year and former poet laureate, Carol-Ann Duffy even wrote a poem celebrating their charms. 
While online platforms such as Vinted and Depop are perfect if you know what you're looking for, charity shops offer a meandering wander through the rails of possibility to discover something unexpectedly wonderful. 
I'm sure many of us can remember a moment gazing in disbelief at a truly beautiful garment that we didn't know we needed until we set eyes upon it. From the gold lamé '80s skirt which goes with absolutely everything, to the acid green slingbacks which are kind of hideous unless you have the imagination to transform their vibe with that dress.  
With summer being a traditional wash out this year, it seems like there's nothing more the Great British public craves more than a life-affirming bargain on a rainy afternoon when indoor activities are at a premium. 
Wise devotees of the fickle charity shop Gods know that it's too much to ask for a full outfit to emerge from these Aladdin's caves of nostalgic charm, but when paired with a well-crafted capsule wardrobe of staples, unique, exciting and sustainable looks are summoned. 
Delivering formerly-prized garments as affordable finds certainly makes charity shopping a boon for eagle eyed bargain hunters with a nose for fashion, but charity shops also do authentic social and environmental good. 
Along with the dopamine spike for individual shoppers, Charity shops provide a vital unrestricted funding stream for their parent charities, generating £270 million in profits in 2015/16.  
 They are also much kinder to the planet than indulging in similarly priced retailers schilling new clothing. Through rehoming unwanted goods, charity shops diverted 331,000 tonnes of textiles from landfill. A figure from the most recent large scale study I could find (2016/2017) states that this reuse and recycling activity reduced carbon dioxide emissions by an impressive 6.9 million tonnes. 
Other unexpected side-effects radiate out from this sustainable principle. By diverting clothing and other goods from landfill, local councils saved an estimated £27 million in landfill tax. A staggering 1 in 10 people in the UK have reportedly volunteered in charity shops for emotional support and connection over the last 12 months, with 90% of people saying that they would recommend their organisation as a 'great place to work'. 
So, along with the satisfaction of bagging something unique with its own nostalgic backstory to imagine, charity shopping really does spread some authentic social and environmental goodness. 
In a society increasingly dominated by mass-produced fast fashion and consumerism, charity shops provide a welcome escape, allowing individual taste and preference to reign supreme and whimsy to take the wheel.
If I've got your rummaging instincts going, below are some of The Shirt Company's favourite charity shops in London to try your luck at! 
Royal Trinity Hospice
Location: 21 venues spread all across London
Best for: Hand selected, quality pieces which are created to last. 
What does it support: Royal Trinity Hospice, delivering end of life care with dignity, both at home and in their specialist inpatient units. 
The Shirt Company donates directly to Trinity Hospice London which aims to bring the sustainability of second hand, donated clothing to a wider audience through their beautiful, easy to browse stores. This year they won the Environmental and Sustainability award at the Charity Retail Association for their efforts. 
Lamas Pyjamas
Location: 83 Roman Road, Bethnal Green, London, E2 OQN 
Best for: A bit of everything! A wide ranging plethora of everything from party garments to dungarees with some excellent crockery, if you're into that kind of thing!
What does it support? The London Buddhist Centre. 
Lamas Pyjamas is a welcoming, chilled charity shop which is always full of surprises at absolutely bargain rates. They also do a half price sale twice a year. According to their website, funds go on everything from teaching meditation and yoga, to retreats for carers and mindfulness for depression, outreach work in schools and open days for all. 
Shops from Crisis - Finsbury Park 
Location: 19 Stroud Green Road, London, N4 3FB
Best for: A diverse range of hip garments curated by colour and a great cup of coffee 
What does it support? Crisis, a UK wide homelessness charity helping people directly experiencing homelessness and campaigning to end it altogether. 
With a beautifully designed airy shop, wooden fixtures and amazing coffee, the Crisis shop in Finsbury Park offers some unique bargains, despite the heavy footfall and it's a genuinely pleasant place to be. Not even the vague scent of a mothball to be sniffed! 
Oxfam Dalston
Location: 514 Kingsland Rd, Dalston, London E8 4AR
Best for: Eclectic, vibrant fashion - from sportswear to showstoppers 
What does it support? Oxfam. A charity which needs no introduction with its goal to end global poverty through an enormous array of innovative projects 
Known for its eclectic and artistic window displays (because Dalston, duh), this shop has a fun, colourful selection of goods which reflects the diverse, forward-thinking fashion of the area's residents. 
All Aboard
Location: 21 shops across London and Manchester 
Best for: Goods tend to be donated by a more mature audience, with a classy vintage feel. Amazing for some incredible prints and fabrics on some outdated cuts to try your hand at altering at home
What does it support? All Aboard was founded by Stella Lucas MBE in 1987 and supports a wide range of selected charities. 
My favourite ever London charity shop is All Aboard Hendon, far enough off the beaten track to be a trove of hidden gems and in an affluent enough area to have some really high quality goods which will last decades. 
Retromania 
Location: 6 Upper Tachbrook Street, Victoria, London SW1V 1SH
Best for: All things vintage
What does it support? Supporting FARA's amazing programmes in Romania
Retromania is all the fun of a vintage shop while supporting a good cause. Everything here is chosen with an eye for accessible, wearable vintage pieces which are perfect for spicing up a capsule wardrobe of well selected fashion foundations.
Share this
---