The 12 Best TV Shows to Watch for Flawless Fashion Inspiration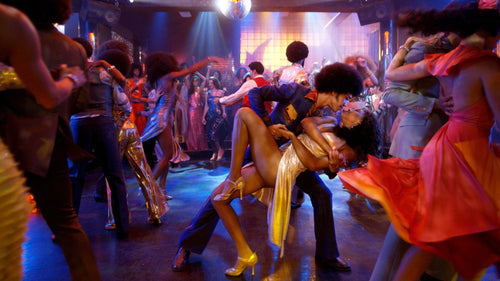 Soaking up style tips while bingeing a cracking TV show in your pyjamas is one of life's finer pleasures and this article is going to make it even easier for you. Blissful. 
Let's be real, none of us want to be doom scrolling through the bottomless bowels of Netflix to get a fashion fix, so below is a list of 11 of the best TV shows for fashion inspiration… which also happen to be pretty great. You're Welcome. 
1. The Crown
Image credit: Netflix 
Spanning multiple decades and fashion styles, The Crown offers some pearl-clutching fashion moments with the on-screen royals looking much better than they ever did in real life. 
While some memorable fashion moments are forensically accurate (namely, basically everything Diana wears in season 4) as they really were that good, a lot of The Crown's sparkly comes from the designers filling in the gaps. 
In the words of costume designer Amy Roberts: "There are many bits in between where you don't know what they said, you don't know what they wear, so you can then put your creativity into that." 
2. Sex and the City
Sex and the City needs no introduction, but after recently dipping my toe back into this guilty noughties pleasure, I was genuinely buzzed to see the fashion was just as great as I remembered. 
Carrie herself one asked "can you ever really escape from your past?" in her ever-questioning (and much parodied) column, and although some of the looks (and storylines) have not aged well, Sex and the City is still iconic. 
3. Friends
Image credit: NBC via Society 19
I can vividly remember watching Friends as a teenager and thinking this show is great, but what the hell are they wearing?! As with many things related to that time in my life, it turned out my opinion was garbage. 
With three female leads who all have their own distinct style, Friends is an absolute treasure trove of '90s fashion inspiration, from Phoebe's button down maxi dresses to Rachel's plaid skirts. 
4. The Serpent 
Image credit: BBC
A 2021 offering with a slick '70s vibe, the styling on The Serpent is a real feast for the eyes. Parading all manner of hippie backpacker gladrags through the atmospheric streets of Thailand in a condensed eight episode offering, The Serpent is essential viewing for anyone with boho leanings. 
5. Killing Eve 
Image credit: BBC America 
If you're going to make a living  from dragging people's entrails out in increasingly creative ways, you might as well look unbelievable while doing it. Villanelle spends her salary on the most ridiculous designer wardrobe you've ever seen, because apparently being the most conspicuous person in the room is great cover when you're an assassin. 
6. Succession
Image credit: HBO
Sure the billionaire Roys mainly look deeply miserable in grayscale, but Shiv is a power dressing style icon who turns every single look she wears with sass. If you want to see the epitome of the quiet luxury trend, it's right here. 
7. The Queen's Gambit 


Image credit: Netflix
Set in the '50s and '60s and styled with an impeccable precision which will make your eyes scream with delight, The Queen's Gambit is the most beautiful show I've seen in a while. Peter Pan collars and pussy bow shirts 
 Peter Pan collars and pussy bow shirts sing with chess prodigy Beth Harmon's (Anya Taylor-Joy) chic bob, and the tailoring is always perfect. Trust me, you'll never covet a turtle neck so hard. 
8. Schitts Creek 
Image credit: Netflix
While Moira Rose's (Catherine O'Hara) absolutely bonkers, unplaceable accent is the best thing about her as a character, her wardrobe is a close second. 
Constantly festooned in the most extra designer pieces you've ever seen while roughing it in a mangey motel and screeching, Moira is your new favourite character. The rest of them are quite good.
9. Mad Men
Image credit: The Take
Set in the '60s and '70s, the set design of Mad Men is so exquisite that it almost eclipses the threads, but not quite. 
Subverted Stepford wife Betty Draper (January Jones) is better groomed than a poodle at Crufts, with much better taste in coats and Megan Calvet (Jessica Paré) has a French New Wave mystique which may just make you want to set your wardrobe aflame and start afresh. And, let's not even go there with ravishing redhead Joan Harris () whose tailored dresses are as sharp as her tongue. 
Oh, and it's also one of the greatest TV dramas of all time. 
10. Dynasty  
I can't even write the word Dynasty without seeing legendary villain Alexis Carrington Colby  (Joan Collins) sashaying across my minds eye, a vision in tulle, poof sleeves and beading. 
One of the most memorable fashion TV shows of all time and a queer cultural staple which has launched a thousand drag queens. What's not to like?
11. The Get Down 
Image credit: Netflix
Full disclosure, I can't totally remember what The Get Down (2016) is about because Baz Luhrmann's intoxicating disco dreamscapes are just so perfect. 
Tracking the birth of New York's hip hop scene with a plethora of all singing, all dancing dioramas that have just as much fashion drama of any runway. 
Bonus Totally Terrible TV show
12. Emily in Paris
Image credit: Netflix via People
The plot is asinine, the accents are unforgivable, but the fashion is (sometimes)  très chic. If you're craving some pretty moving pictures to look at, and a laugh, just slam Emily in Paris on. Perfect for a hysterical wine-marinated giggle with friends.  Cin Cin!
Share this
---