Mix & Match Your Way to Effortless City Break Style This Summer Holiday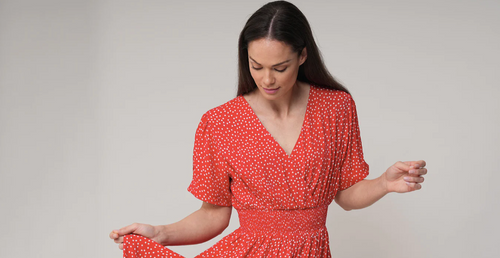 Packing for a cosmopolitan city break can be a daunting task. Looking chic features highly in our romantic fantasies of strolling down cobbled streets with effortless elegance, but trundling along with a giant suitcase is just so passé. 
Nobody wants to spend the first hour of their morning in Lisbon, Athens or Madrid rummaging through a voluminous suitcase with all the fervour of a raccoon in a wheelie bin while still having nothing to wear. Couple this scenario with the expense of checking a case and the inconvenience of waiting at the world's least fun carousel at the airport, and it's easy to see why the capsule wardrobe is the vacation queen. 
A chic capsule wardrobe can ensure a stylish and versatile ensemble while keeping your luggage light and allowing you to waft around with a backpack and the freedom that comes with it. What's more, carefully choosing timeless pieces means you can mix and match your way through holiday after holiday. 
Being able to spontaneously flit from hotel to hotel, following a trail of local tips you've picked up along the way can make for a much more enjoyable break, and there's no need to look like a stereotypical backpacker while doing it!
The Bag
Image credit: Osprey and Kind Bag
Begone rolling suitcase, the backpack is where it's at! Sure, a small suitcase can be stowed in an overhead locker but it's hard to look stylish dragging one around all day and, good luck getting it into a museum! 
For a long weekend, or even a week long jaunt, a decent sized backpack is your best friend and there are loads of stylish, practical options out there which won't cramp your style or your stuff. 
Something like the Osprey Arcane 22l Roll Top Backpack or the 100 percent recycled Hackney Kind Bag  will both fit a surprising amount of stuff without looking too "hikey" 
The Shoes 
Image credit: Birkenstock and Dr Martens
Shoes are the absolute nemesis on the aspiring light packer, but, repeat after me, you only need one pair! For a sunny city break, a stylish pair of sandals will see you through exploring, fine dining and everything in between and they look fab with everything. 
Gold and silver are basically neutrals, so choose a pair to match your favourite jewellery to elevate your look or go with a classic, chunky black pair to stomp about in. Doc Martens make a great vegan, friendly pair. 
The Dress 
Image Credit: The Shirt Company
A summer dress exudes effortless style and femininity, which allows you to feel confident and put together without too much effort. 
While the key to an adaptable holiday capsule wardrobe is neutral wearable colours, the dress is your opportunity to throw caution to the wind and embrace whatever colour and pattern you desire to flounce through your most vivid Mama Mia fantasies. 
The Shirt Company's new Primrose Midi Shirt Dress is a polkadot vacation icon which is perfectly suited for balmy summer evenings and looks simply smashing with a straw sun hat. 
The Tops 
Image Credit: The Shirt Company and The Shirt Company 
An array of classic, beautifully cut tops in black and white are the perfect foundation for creating sophisticated and classic looks which will take you seamlessly from golden beaches to buzzing bars. 
The Danette Easy Fit Linen T-shirt is a cool and comfortable match for just about any of your favourite bottoms and is a perfect complement to the Roman Holiday inspired Abbey Wraparound Sleeveless Shirt. 
Four tops is ample to scatter some variety through a long weekend, especially with a little treasure chest of accessories to sprinkle some colour and sparkle through your vacation looks. 
The cute and cropped Gretel Linen Jacket with its scalloped edge serves up laid-back beachy vibes and the romantic Elsie Edwardian Sleeveless Blouse completes a well-rounded mix and match lineup of holiday charmers. 
Image credit: The Shirt Company and The Shirt Company 
The Bottoms 
Image Credit: The Shirt Company and The Shirt Company 
Selecting the perfect bottoms for your holiday capsule wardrobe is a balancing act between versatility and style. The key is to choose pieces that can easily mix and match while still reflecting your personal taste. Classic denim shorts, lightweight linen pants, and a playful midi-skirt are all excellent options to consider. 
The modern and minimal
Cosette Easy Fit Ankle Grazer
in linen will keep you cool with their carefree, breezy wide legs and make a wonderful, adaptable pairing with the comfortable yet feminine
Clarette Midi-Skirt
with its classic form and stylish horn buttons.
Share this
---