How Shining in Silk Can Elevate Your Style This Winter and Beyond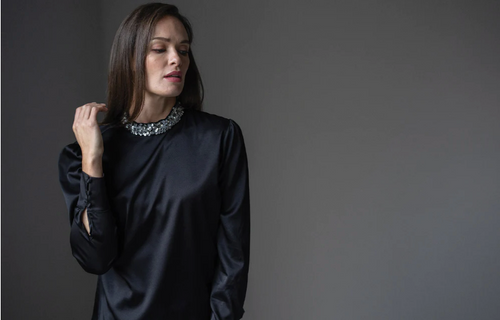 We could all do with some wardrobe whimsy to get us through the coldest, most sluggish months and silk might just be the answer. Crisp, shining and sumptuous on the skin, silk carries an undeniable mystique, which is surprisingly well-suited to winter weather. 
Legend has it that the first silk was spun around 3000 BC when a cocoon splashed into 14-year-old Empress Leizu's teacup from above. While unfurling the long thread, the soon-to-be goddess of silk was struck with inspiration to try weaving with it — and the timeless fabric that came to define China was born. 
Image credit: Ancient Origins 
Today silk retains the romance of its origin and continues to capture the imagination. The luxury of silk has even woven its way into the fabric of our language with "smooth as silk" or "silky" becoming descriptors we use to describe anything satisfyingly sleek. 
"Smooth as silk" is apt in more ways than one as silk is a fabric which doesn't need an iron to shine. If you're planning on dealing with the bleaker months with a winter sun getaway, silk is a smart choice as it responds perfectly to the low-effort dewrinkling treatment of steaming on a hanger while you're in the shower.
Image credit: The Shirt Company
Silk is often associated with summer but as a natural insulator it is perfect for creating non-bulky, elegant winter looks. These insulating properties work best directly against the skin, meaning silk makes for a wonderfully sophisticated base layer as a foundation for warmer knits, gilets or coats. 
The shimmer of silk is eye-catching, even when peeking out from underneath another garment. This irresistible property is due to the triangular prism-like structure of the fibre, which refracts light coming from different angles to deliver a certain ice queen iridescence. 
Image credit: Pintrest 
This shimmering smoothness is also a treat for skin and hair — which could often use a helping hand during winter months. Many of us will have heard that a silk pillowcase can prevent tangling and help with sleek, shiny hair, and these qualities translate to clothing too if you happen to have long hair which brushes your shoulders and back all day. Silk is also soothing to eczema and dermatitis (which often flare in winter) by preventing friction, helping to prevent moisture loss and being a hypoallergenic natural fibre. 
But enough of the science stuff and skin conditions… let's simply revel in the lavish, fabulous properties of silken garments which make them a worthy wardrobe staple for years to come. 
Image credit: The Shirt Company 
It may look and feel precious and deceptively delicate, but silk is as tough as nails when it comes to longevity. As the strongest natural fabric, silk is a hard working wardrobe staple with a pretty face. This durability means silk doesn't need to be handled with kid gloves and can be enjoyed for decades to come as — let's be real — nothing this esteemed for thousands of years is suddenly going out of style. 
Image credit: Respoke
After all, silk is so alluring that Grace Kelly used it to make a broken arm look like a sought after fashion accessory and so versatile that it has cultural touchstones which reach from Queen Victoria's wedding dress to Courtney Love's grunge glam. 
Image credit: Royal Collection Trust/ Stylist
One of the biggest joys of silk is that it's so versatile and wearable for everyone across the whole spectrum of style and, indeed, across the seasons. Silk offers a brilliant way to serve some crisp, winter fantasy vibes to give January and beyond some much needed oomph. Treat yourself!
Share this
---