How Barbie Has Fashion Tickled Pink in 2023: From Body-Image Oppressor to Feminist Icon: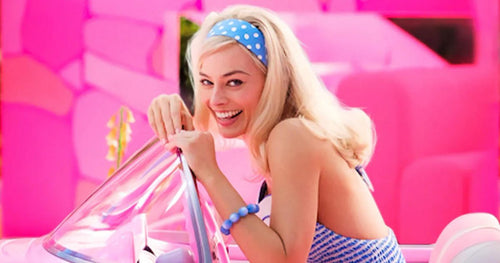 The subtle whispers of quiet luxury have a bombastic hot pink rival this summer in the form of the irrepressible Barbiecore, but why has being a Barbie girl become such a juggernaut of a cultural phenomenon?
Gliding into the style zeitgeist on neon roller blades with a bouffant of platinum blonde hair, and about 38 PHDs, Greta Gerwig's Margot Robbie fronted Barbie movie has captured fashion's imagination in a big way. 
Barbie's popularity as a generation spanning cultural staple is undeniable, but it's her swift stiletto-heeled turn from a body-image crushing menace to a go-getting feminist role model which has helped put Mattel's icon back in the pink. 
Launched in 1959, Barbie immediately stood apart. Unlike the baby dolls who dominated the landscape of gendered play for girls, Barbie didn't need to be nurtured. She existed to inspire as an avatar of imagination and possibility. 
She was also, unfortunately, anatomically impossible and sparked protests at the New York Toy Fair in the '70s calling out the unrealistic and destructive expectations Barbie's unattainable figure put on girls.  
The prevailing attitude about Barbie when I was growing up, and in my adult life has been dominated by criticism of Mattel's most famous doll being sexist. While she might have a multitude of sparkling careers, Barbie began her career as a teen model and, in one of her many incarnations, came with a scale set to the weight of 110lbs (49.8kg) and a little book of diet tips. 
Image credit: The Daily Mail via Ebay 
This undeniable darkness, which has been backed up by some shocking research on the effect of Barbie dolls on girls' self image, made it hard to appreciate the outrageously camp joy of Barbie's world, but how has Greta Gerwig made life in plastic look so fantastic?
While the Barbie movie celebrates the glossy razzle-dazzle of Barbie's wardrobe and dream house in a world of perfectly white smiles, retro dance moves and play — Barbie's body doesn't need to be explored or commented on. It just is. 
Instead, we are called to focus on the absurdity of a woman who has had virtually every job possible, whether it's riding her hot pink convertible to nurse horses as an equine vet, donning her white coat as a scientist or nipping into space as an astronaut. Not only this, but she enjoys every single second of it and looks fabulous while doing it. 
Then there's her boyfriend, who's just Ken. 
By putting us into Barbie's world where suffering is (or, should I say was)  an unknown entity, degrees are earned without debt, tears or debilitating stress and work comes with no glass ceiling or gender-based discrimination, it's easy to see why Barbie just wants to party. Who wouldn't?
Her 'perfect' image might be an affront in our regular world, but it makes sense when we enter hers. This tongue in cheek appreciation of the camp absurdity which underpins Barbie's multifaceted appeal helps Greta Gerwig reframe Barbie as an unproblematic queen. 
Looking beyond Barbie's looks as the most important thing about her, has allowed the hot pink, fun frivolity to explode into the cultural zeitgeist like a cerise confetti cannon. 
Margot Robbie's press campaign looks, plucked directly from Barbie's tiny wardrobe and upsized, have been a moment of pure joy and it looks like everyone involved is having a blast. 
This celebration feels in line with the feminist shift which has been underway for some time, where pink hyper-femininity is being reevaluated as something to be celebrated, not minimised and seen as "lesser" than masculine-coded themes. 
It's no wonder that the allure of embracing our hottest, pinkest, most sequin spangled fashion selves has been so irresistible! 
We are all embracing Barbie for who she really is with a female director who just gets it. 
Share this
---