A Short History of Shorts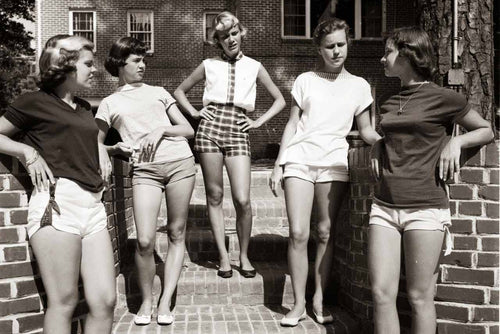 Women's shorts have been having big fashion moments for a long time, but how did they evolve from a school boy staple to a multifaceted summer style icon?
Right now, everything from jorts to skorts optimistically festoon the glossy fashion pages, despite the rather damp squib vibes of summer 2023. While the names and styles may have changed, it's been this way almost every summer since the mid '50s. 
So, let's look back at the history of shorts and how they got ahead of the fashion game, despite many moments of controversy.
1800s
Back in the 1800s, shorts had a restricted existence as the uniform of young boys who had graduated long gowns and were "breeched" at about 2. Wearing trousers was considered inappropriate for young lads and, if you happen to be British and posh enough, still is. Case in point, when the Royal watchers went mental enough to write articles about it the first time Prince George was spotted in trousers. 
Late 1800s and 1900s
The late 1800s were a time of Knickerbocker inglory for women, as these long, baggy shorts (also known as bloomers) were so controversial that women who chose to wear them for sporting activities were heckled by crowds and denounced as moral degenerates. 
Image credit: Cycle History
Cycling was the centre of this debate as womens draped skirts were perilously dangerous when entangled in the mechanisms of an early bicycle, described vividly by an unnamed woman in a 1981 copy of America's Sporting Life who recalled: "skimming along like a bird, when there was an awful tug at my dress and a cracking sound. Before I knew what was the matter I found myself lying on the road with the safety on top of me. My dress was so tightly wound around the crank bracket that I could not get up until I got free."
Image credit: Teara)
The correct clothes for cycling created a heated debate from Britain to New Zealand with female revolutionaries campaigning for "rational dress", aka clothing it was possible to move in. 
Bloomers were so controversial that stories about them read like a parody to our modern eyes, with newspapers overbrimming with pearl-clutching tales of fiances dumping their dearly betrothed over their unladylike bloomers and one incident of a dentist being sued by a bloomer wearing woman refused treatment. 
Although women staunchly clung to their right to knickerbocker and ride, it took a literal war (WW1 to be precise) to begin to change attitudes to women cycling in 'shorts.'
1920s and 1930s
Image credit: Vintage Dancer 
The 1920s saw an increase in women wearing shorts, including Bermuda shorts and, later in the '30s, an even more eyebrow raising 'short' short. These items were strictly only for athletic pursuits however, and most women even wore a longer "pyjama" to the beach. 
Women wearing anything which could be considered 'mens' attire was still controversial. Some American cities and states chose to ban them due to modesty laws. In 1937, shorts were made illegal in Yonkers, New York, and the town of Honesdale, Pennsylvania, banned shorts in 1938 with a city official stating that"Honesdale is a modest town, not a bathing beach." 
Forward-thinking celebrities such as Marlene Dietrich, Katherine Hepburn, and Greta Garbo helped to popularise more sartorially daring choices, but even Dietrich was almost arrested by Parisian police for wearing a pant suit in 1933. 
The more quietly rebellious skort was popularised by tennis (seen below on Lili Averez in 1931) and seen as a more respectable compromise, as apparently a small flap of fabric made all the difference for 'proper' attire. 
Image credit: Atlas Obscura 
1940s
Image credit: So Vintage Patterns
Thigh skimming shorts became all the rage with pin up girls and movie starlets in the 1940s, but shorts were still uncommon everyday attire guaranteed to raise eyebrows. 
The shorter end of the short scale in the '40s were generally high waisted and pleated and tailored with a clear nod to their tennis origins. 
Although they emerged in the '30s in a floaty beach pyjama kind of style our modern sensibilities would categorise more as a trouser, shorter culottes burst onto the scene — like the ones below from the late '40s 
Image credit: Vintage Dancer 
Pedal pushers, which are having a bit of a fashion moment as we speak in the form of the long jort (jean short), also emerged in the 1940s, first popularised by teenage girls before becoming more acceptable adults in the '50s.
1950s 
Image credit: Vintage Dancer 
In the '50s, shorts finally burst into the mainstream for women after decades of being relegated to athletic wear or risqué pin up girl garb. 
Known as shorties, the shorter shorts of the decade sat well above the knee with a shocking 6 inch inseam and, although they were mainly worn on the beach, were also seen strutting the streets on more rebellious rock and roll types. 
The more conservative above the knee Bermuda shorts were the most widely worn of the decade and introduced lots of the fun styling options we still adore about shorts today. 
Image credit: Vintage Dancer 
1970s
Image credit: Wikicommons 
Daisy dukes, denim cut offs and hot pants were some of the stand out style superstars of the '70s and an authentic cultural phenomenon that helped define the look of the decade. 
Image credit: Glamourdaze 
When Mary Quant adapted her revolutionary mini skirt into short form, it formed nothing short of  a youth movement. The buzz was so great that the Godfather of Soul, James Brown wrote 'Hot Pants (She Got to Use What She Got to Get What She Want)' a 3 part anthology about them and Southwestern airlines adopted them as part of its uniform. 
New fabric technologies like polyester allowed hotpants to be form fitting and slinky for the disco era and helped define the aesthetics of the age. 
1980s
Image credit: Vintag.es
Brightly coloured athleisure high kicked and grapevined its way into the fashion realm in the '80s, with the dolphin short gaining widespread popularity. 
Now mainly relegated to blokes on stag dos looking for a cheap and easy theme, these shorts derived their name from the Dolfin Swimwear company and were found in a variety of nightmarishly '80s materials such a terry cloth and nylon. 
Worn short with their distinctive curved hems, these shorts might look toe-curlingly naff now, but they were a necessary gateway into the unstoppable sportswear trend.  
Modern day 
Shorts are still versatile, edgy and fun —perhaps thanks to their cultural history of rebellion with distinct links to leisure activities. Dressed up shorts have a unique playful edge, and the cool-girl androgyny of long shorts offers a versatile summer staple. 
At home with a boxy cropped shirt or a more fitted number, long Bermuda shorts can be board-room ready with a thick leather belt and some chunky loafers. Chuck on an oversized blazer for the changeable climate and you have a stylish yet practical look which, while fresh, isn't going to go out of style. 
For a more casual look, the long jort (long jean short) is the way to go. Slouchy, loose fit blue denim looks incredible with a white shirt and trainers and all it takes is some gold hoops earrings and your favourite handbag to elevate things. 
Share this
---