11 Must See Fashion Documentaries to Suit Any Mood or Moment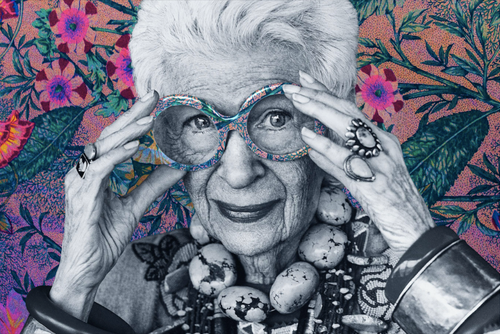 As the saying goes, March really has come in like a lion this year, and the idea of snuggling up on the sofa watching fashion on screen is a lot more appealing than dressing up in it right now.
After trudging through the snow, the last thing we need is another arduous slog through the endless digital corridors of Netflix, so here's a list of some of the best fashion documentaries to suit any mood. 
Sustainability and Ethics 
1. Fashion Reimagined (2023)
What's the vibe? Contemplative and unflinching - but hopeful. Amy Powney's tenacity and determination is inspiring. 
Striving to create a fashion collection which is real-life sustainable as opposed to 'buzzword' sustainable, self-described fashion outsider Amy Powney of cult brand Mother of Pearl shows the gargantuan effort this feat really takes. 
2. The True Cost (2015
)
What's the vibe? It's a hard watch at times but tracing fast fashion through the entire supply chain shows how all encompassing this issue is. A great backbone education on the subject which is gently and carefully explored. 
This groundbreaking 2005 film focuses on the meteoric rise of fast fashion and the true cost of this cultural shift. Director Andrew Morgan had no prior knowledge of the fashion industry but was inspired to make the movie after being shocked by seeing the collapse of the Rana Plaza on TV. 
3. Udita (2015)
What's the vibe? Girl power under impossible adversity. Udita is an unflinching look at the tough lives of garment-makers as they fight for their rights on a grassroots level in Bangladesh. 
Following a group of women over 5 years, Udita shows the struggle through the eyes of female union leaders and organisers as their long fight finally begins to deliver some results. 
Iconic Designer and Fashion Houses 
4. Westwood: Punk. Icon. Activist (2018)
What's the vibe? Punk af, obviously 
After her death last year, this bombastic documentary is a celebration of all things Viv. Exploring the interrelation between her legacy as a fashion icon and her legacy as an activist, this documentary attempts to distil the complex essence of Vivienne. 
Fun fact, a friend of mine worked for Vivienne for a while and can confirm her devotion to environmental issues extended to eating people's bruised bananas to save them from going to waste and a very minimal loo flushing policy. A true eccentric legend. 
 5. McQueen (2018)
What's the vibe? A visually stunning documentary which is intimate, well sourced and compassionate. 
As I went to art school in London in 2006, Alexander McQueen is obviously close to my heart, so I might be a bit biassed when I say this is one of best fashion documentaries ever made. 
A real treat for the eye, McQueen puts the designer's breathtaking, dark and otherworldly visions centre stage. As McQueen himself said,"if you want to know me, look at my work."
6. Dior and I (2015)
What's the vibe? Frenetic, exciting and realistic. Dior and I gives us a revealing peek into the industry as Raf Simons ascends as Dior's creative director.
The pounding and often ridiculous levels of stress "behind the seams" of the fashion industry really come through in this testament to Raf Simons and, perhaps more importantly, the seamstresses who execute his vision. 
Inspiring and emotional, this is one of those documentaries which has the power to remind us why we love fashion.
7. L'Amour Fou (2011)
What's the vibe? An intimate portrayal of Yves Saint Laurent as an artist through his relationship with his lover Pierre Bergé. 
Built around the 2009 sale of Saint Laurent and Bergé's lavish art collection, L'Amour Fou is a portrait of Saint Laurent as a tortured artist in his gilded cage. 
Although melancholy, this documentary is an empathetic and articulate eulogy of the legendary French couturier which takes a different path.
8.The Director: An Evolution in Three Acts (2013)
What's the vibe? Frida Gianna comes across as refreshingly agreeable and mild-mannered, skirting around explosive high fashion theatrics. The Director: An Evolution in Three Acts, is a relaxed, atmospheric watch. 
Overshooting childhood aspirations to be a mum with a nice house dramatically, Frida Gianna becomes the creative director of Gucci and, despite her love for tradition, she does it her way. 
Shot in three acts focusing on "the past," "the future" and "the present," this documentary shows Gianna as a powerful woman leaving her mark on a male-dominated industry with quiet artistry. 
Events and Icons 
9. Iris (2014)
What's the vibe? You just need to take one look at Iris Apfel to get the idea! 
Directed by legendary documentarian Albert Maysles (of Grey Gardens fame) Iris is a joyful testament to the pleasures of living a loud and unapologetic fashion fantasy into old age. 
10. The September Issue (2009)
What's the vibe? The theatricality of Vogue's September issues needs no introduction and the 2007 September issue which this documentary centres around was the biggest, most decadent yet. A voyeuristic voyage into the politics behind the creation of this style monolith. 
Anna Wintour and her second in command, Grace Coddington, are an odd couple which is largely what makes The September Issue such compelling viewing. 
Wintour's presence as the "pope" of Vogue is often surprisingly (and unintentionally) funny as she mirrors larger than life fictionalised portrayals (looking at you, The Devil Wears Prada) as fashion's "Red Queen." 
Employees quiver in her wake, cover stars are edited beyond recognition with cutting brutality, but Coddington manages to maintain her dignity in Wintour's realm. 
11. Diana Vreeland: The Eye Has to Travel (2011)
What's the vibe? Diana Vreeland shines with passion and is somewhat of a cultural zeitgeist, helping Jackie Kennedy to select her White House wardrobe and publishing some of the first photos of Twiggy and Mick Jagger. Vreeland sees beauty and potential everywhere and is bursting to share it with the world. 
An affectionate portrayal of Harper's Bazaar editor, Diana Vreeland, by her granddaughter in law (who married into the family too late to meet the late icon). The legitimate fabulousness of Vreeland who speaks from beyond the grave in a series of arch and amusing interviews, either in her own voice or through a voice actress, is what makes it. 
Share this
---